What is Actos?
Actos (pioglitazone) is a thiazolidinedione medication usually prescribed for the treatment of type 2 diabetes. It effects are based on making the body more sensitive to insulin helping the body to control the amounts of sugar in the blood. This drug is supposed to be used with diet and exercising routine for maximum effects, as it is unlikely to help you lose weight on its own.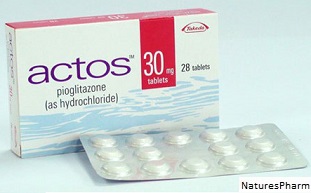 Actos effects and how to take it
Actos is supposed to be taken once a day with some food or without unless otherwise recommended by your health care provider. To avoid missing a dose, make sure you take it at the same time every day – this way you will remember you need to take your mediation a lot better. This medicine will not actually cure diabetes and it may take you some time to feel the full benefits of taking this drug – up to 2 weeks. This time is needed for the levels of sugar in your blood to go back to normal. Make sure you keep taking this drug regularly and do not take more of it, as you are not going to benefit more from your treatment as a result of taking more.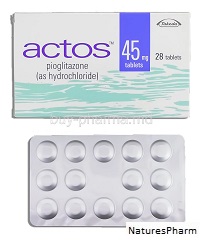 What you should discuss with your doctor before taking Actos
This is a serious medication that is not supposed t be taken without first discussing it with your health care provider. Your dose may first be quite low, but your doctor may increase it later depending on the response of your body to the treatment. In some rare cases medicines that belong to this group may worsen some of the health conditions you have, so please make sure you report to your health care provider the fact of being diagnosed with congestive heart failure. Other conditions that are supposed to be reported include, but are not limited to: swelling of the arms, hands, feet, ankles, heart defect, heart disease, high cholesterol, high blood pressure, coronary artery disease, a heart attack, and irregular heartbeat. If you have liver disease or are pregnant – report that to you health care provider before you start taking Actos.
Are any side effects likely to happen?
Sometimes patients taking Actos can display the following side effects: headache, sinus infection, muscle pain, sore throat and swelling. Serious symptoms of an low blood sugar levels can be: seizures, confusion, loss of consciousness. These must be reported to your doctor as soon as possible. High blood sugar levels are also possible – the following symptoms can be displayed: extreme thirst, blurred vision, frequent urination, and weakness. Make sure you contact your doctor immediately if you have muscle pain, sore throat, cold symptoms (runny nose), mouth pain, or a headache. You may also develop congestive heart failure symptoms when taking this drug, so tell your health care provider immediately if you have pain in the stomach, swelling, frequent dry cough or significant weight gain.
Actos lifestyle
Controlling diabetes also involves leading a healthier lifestyle and exercising regularly to lose weight. Make sure you follow all the dietary recommendations and avoid drinking alcohol, as this may decrease your blood sugar levels. Your blood sugar levels will need to be tested regularly to make sure you are benefitting from the treatment. You will also be measuring your blood and urine sugar levels at home after your health provider shows you how this is supposed to be done.
Interaction of Actos with other medicines
Tell your health care provider about any drugs you are allergic to, including gemfibrozil, rifampin, ketoconazole, hormonal contraceptives, montelukast, midazolam, nifedipine, or atorvastatin. Tell your surgeon that you are taking Actos, even if this is going to be a minor surgery, as this may affect the choice of drugs during the operation. In case you hare under a lot of stress or get an infection – call your doctor and ask for specific instructions for your case, as these events may increase your blood sugar levels. Do not take this drug in larger quantities or combine it with other medications for diabetes, as you are likely to have low blood sugar levels and develop the following symptoms: sweating, nervousness or irritability, mood changes, lightheadedness, dizziness, numbness or tingling, headache, and weakness.
Pregnant women taking Actos
This medicine is FDA pregnancy category C, which means it may be harmful for an unborn baby and is therefore not supposed to be taken by pregnant or breastfeeding women. This drug can make birth control pills and other methods of contraceptives less efficient. Before you start taking any contraceptives (oral kinds) make sure you talk to your health care provider. You will be recommended an efficient remedy that will prevent you from getting pregnant at the same time without causing an interaction with Actos.
Actos overdose
If you have taken too much of this medication, make sure you seek emergency medical help.