Previously, we talked about cold and flu, and the differences between them. We mentioned also that vitamin c is a very efficient vigilant sentry which is used most commonly to counteract the symptoms of both cold and flu. This time, we will get to know about an important cold and flu remedy. 
 Ibuprofen
Ibuprofen (EYE bue PROE fen, nomenclature: Isobutyl propanoic phenolic acid), is used for counteracting common cold and flu symptoms. It's one of the cold and flu remedies which work by reducing hormones that cause inflammation and pain in the body.
It is a non steroidal anti-inflammatory drug (NSAID) that acts mainly as analgesic, anti-inflammatory, antipyretic, and for the relief of symptoms of arthritis and dysmenorrhea. However, at the same time there are some precautions that healthcare professionals and people in general should be aware of before administering this medication.
Ibuprofen should be given with care to patients with a history of gastrointestinal disease. Also caution is required if the patient is suffering from, or with a previous history of bronchial asthma since this medication is reported to cause bronchospasm in such patients.
■ Prostaglandins and inflammation: the synthesis, effects, and functions
■ Paracetamol, Acetaminophen, or the medication known as Tylenol in U.S.
■ Diclofenac: one of the powerful NSAIDs commonly used
Unlike many other substances that act against flu and common cold symptoms, this substance is contraindicated during pregnancy and lactation. Moreover, patients with renal, hepatic, or cardiac impairment must take it cautiously. Using the NSAIDs (Non-steroidal anti-inflammatory drugs) may result in deterioration of the patient's renal function.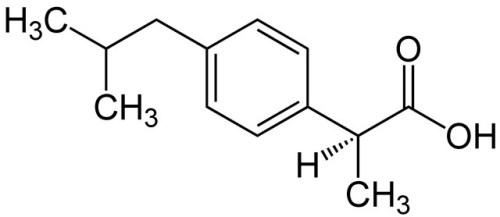 Ibuprofen should be given with care to patients with history of heart failure or hypertension. Edema, a symptom of heart diseases and hypertension, has been reported in association with Ibuprofen. Edema was also reported with other NSAIDs. This class of drugs, NSAIDs, like other cold and flu remedies, have greatly powerful effects .
Precautions of Ibuprofen
N.B. Never use Ibuprofen just before or after a heart bypass surgery (coronary artery bypass graft, or CABG). Because this medicine may cause life-threatening heart or circulation problems such as heart attack or stroke, especially on long term usage. You should firstly ask a pharmacist or a physician whether it is safe for you or not to take this medication. The same thing if you are allergic to Ibuprofen, Aspirin or other NSAIDs and especially if you have :
A history of heart attack, stroke, or blood clot.

Heart disease, congestive heart failure (CHF), high blood pressure.

A history of stomach ulcers or bleeding.

Asthma.

Polyps in your nose.

Liver or kidney disease. 

Systemic lupus erythematosus (SLE); (is an autoimmune connective tissue disease). 

A bleeding or blood clotting disorder; or if you smoke.  
Taking Ibuprofen during the last 3 months of pregnancy may harm the unborn baby. It's much better if you tell your doctor if you are pregnant or planning to become pregnant while using Ibuprofen.
It's not known if Ibuprofen passes into breast milk or if it could harm a nursing baby. Do not use this medication without telling your doctor if you are breast-feeding a baby. Never give this medicine to a child without the advice of a doctor.