What is Lidocaine?
A local anesthetic Lidocaine was synthesized in 1943 and marketed in 1949. It is still widely used in the modern medicine. Lidocaine comes in forms of injections or patches and gels that can be applied directly to the skin.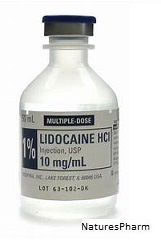 Recommendations for Use
The medication is able to block nerve signals thanks to numbing a certain area of the body. Lidocaine is used for reducing discomfort or pain that may be caused during invasive medical procedures like needle punctures, surgeries, inserting a catheter or other medical devices into the body. It may also be used for epidural anesthesia in order to reduce pain experienced by pregnant women during contractions or during surgery in men and women if it is performed on the lower parts of the body.

The drug is one of the most popular dental anesthetics used for tooth or root canal extraction, tooth treatment, etc.

Lidocaine injection in some cases may be prescribed for treatment of arrhythmia to prevent a possible heart attack. It is possible to use the medication for other purposes, depending on a doctor's decision.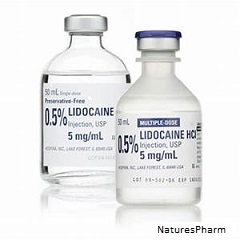 Precautions and Contraindications
Lidocaine may cause hypersensitivity, and that is why it is not used in patients with a known history of allergenic reactions to any of amide local anesthetic agents. In order to manage possible adverse reactions effectively and quickly, it is crucial to have an immediate access to resuscitative drugs and equipment when Lidocaine is used.

This medication should be carefully prescribed to patients with the following conditions:

• Severe kidney disease;

• Severe liver disease;

• Hypovolemia;

• Severe CHF;

• Various heart conditions like Adams-Stokes syndrome and all types of heart block.

The safety of Lidocaine in patients with the high risk of MH has not been fully studied, and that is why the drug should be used carefully in such patients.

Because of the potential danger to small children, a black-box warning for Lidocaine was issued by the FDA in 2014, recommending not to use this medication to relieve tooth pain in babies.
Drug Interactions
There are 246 drugs known to interact with Lidocaine with 20 drugs causing major drug interactions. Tell your doctor if you use the following drugs:

• Anesthetics (propofol);

• Anti-arrhythmia drugs (amiodarone);

• Antibiotics ciprofloxacin (clarithromycin, erythromycin, Cipro);

• Anti-depressants (amitriptyline, clomipramine, fluoxetine, fluvoxamine, nefazodone, paroxetine, sertraline);

• Anti-hisamines H2 blockers (cimetidine);

• Anti-fungal medications (fluconazole, itraconazole, ketoconazole, miconazole);

• Anti-neoplastics (tamoxifen);

• Anti-seizure medications (carbamazepine, phenytoin, Divalproex, flurazepam, alprazolam, valproic acid, diazepam, midazolam, triazolam);

• Beta blockers (propranolol);

• CCB (amiodarone, felodipine, nifedipine, nicardipine, diltiazem, verapamil);

• Cholesterol medicines (atorvastatin, cerivastatin, lovastatin, simvastatin);

• Immunosuppressants (cyclosporine);

• Antivirals (indinavir, nevirapine, ritonavir, diethyldithiocarbamate, nelfinavir, saquinavir).
Side Effects
Common side effects reported are the following:

• Redness or swelling of the skin at the injected place;

• Vomiting;

• Dizziness;

• Confusion;

• High blood pressure;

• Constipation;

• Nausea;

• Headache.

Severe side effects are the following:

• Methemoglobinemia;

• Racing heartbeat;

• Changes in heart rhythm;

• Muscle pain;

• Fever;

• Sweating;

• Seizures;

• Anaphylaxis.