What is Combigan?
Combigan (Brimonidine Tartrate) is an innovative medication that consists of two potent ingredients producing the action. Brimonidine and Timolol, being active components of the treatment, provide a complex effect that helps both decrease the fluid amount in the eye and reduce the eye pressure. As a result, the medication is frequently prescribed to patients suffering from ocular hypertension and open-angle glaucoma. Additionally, the treatment can be used to improve other conditions, not listed in the safety guide.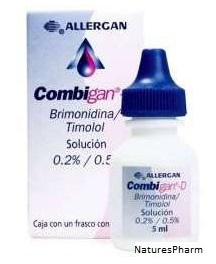 Recommendations for Use
Follow the prescribed dose and intake rules for a safe Combigan treatment course. The medication should not be applied if you wear contact lenses. Thoroughly wash your hands before the eye drops usage. Form a small pocket out of your lower lid, apply the medication and keep your eyes closed for a couple of minutes. Take as many drops as you are recommended. Do not overuse or misuse the remedy to avoid possible side effects.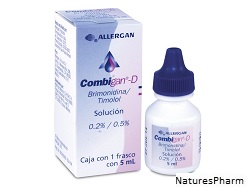 Precautions and Contraindications
Talk to your healthcare specialist before taking Combigan to improve the eye disorder. Make sure the treatment course helps you solve the problem and preserve your general health condition. Do not use the medication in case you are allergic to the active ingredients of Combigan or if you have any of the following disorders:

• Heart failure, heart attack, stroke;

• AV block, slow and uneven heartbeat;

• Asthma or other breathing disorder;

• Chronic obstructive pulmonary disease.

Moreover, warn your physician about other health complications and illnesses you are diagnosed with to avoid possible dangerous effects caused by Combigan. Pay exceptional attention to:

• Thyroid disorder;

• Depression, anxiety, agitation;

• Myasthenia gravis;

• Diabetes of any type;

• Coronary artery disease, congestive heart failure;

• Glaucoma;

• Uncontrolled blood pressure and others;

Pregnant women should not administer Combigan due to the harmful impact it may produce on the health of an unborn child. Additionally, the treatment can pass into breast milk leading to serious complications in a nursing child. Tell your doctor if you are pregnant or breastfeeding.
Drug Interactions
Before the beginning of Combigan treatment course make sure none of the other medications you take will interact with the remedy. Eliminate harmful combinations that can result in decreased Combigan effect or even side effects occurrence. The medication will interact with a range of different prescription and OTC drugs, especially:

• MAO inhibitors, such as Linezolid, Tranylcypromine, Rasagiline;

• Anxiety or depression treatments, including Nortriptyline, Clomipramine, Doxepin, Fluoxetine, Amitriptyline;

• Seizure medications;

• Sleeping drugs;

• Digitalis, Digoxin;

• Beta-blockers, especially Propranolol, Labetalol, Nadolol, Atenolol, Carvedilol;

• Narcotic pain treatments;

• Blood pressure medications;

• Muscle relaxants and others.
Side Effects
Despite Combigan is approved as a safe treatment, it can cause numerous adverse reactions and abnormalities if misused. Thus, address the nearest emergency room in case you have noticed the drug overdose and related allergic reactions, including swelling of the face or throat, hives, itching, skin rashes, breathing problems and others.

Common Combigan side effects are rather mild, and they include redness, itching, fatigue, dizziness, drowsiness, headache, eye irritation, etc. The reactions should disappear within the first few drug intakes. Tell your healthcare provider if the symptoms do not fade away, but new, more complicated issues appear instead.