Keflex is included in a group of drugs known as Cephalosporin antibiotics. It is a semi-synthetic cephalosporin antibiotic used typically for its bactericidal activity. It's used in the treatment of bacterial infections and for preventing infections in the heart valves.
Working via interfering with bacterial cell wall formation, Keflex causes the bacterial cell wall to rupture, hence the death of bacteria. Keflex can be used to treat bacterial infections like upper respiratory tract infections, ear infections, skin infections, and urinary tract infections. It may also be used for other purposes.
Inefficiency against viral infections is included within the cons of Keflex, due lacking the capability of counteracting the viral infections such as common cold, flu, and stomach flu. 
With a pros over penicillin, Keflex could be used as an alternative to penicillin to treat a range of common infections for patients who are allergic to penicillin. Moreover, these patients have a little incidence for being allergic to Keflex.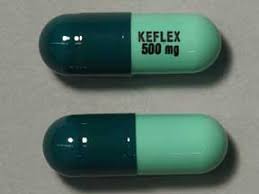 Efficiency range of Keflex
In-vitro, it's active against:
A- Aerobes, and Gram +ve such as:
1. Beta hemolytic Streptococci.
2. Staphylococci, including coagulase +ve, coagulase -ve, and penicillinase-producing strains as Streptococcus (Diplococcus) pneumoniae.
B- Aerobes, and Gram -ve like:
1. Escherichia Coli (known as E.coli).
2. Proteus mirabilis.
3. Klebsiella species.
4. Haemophilus influenzae.
5. Neisseria catarrhalis.
Keflex is indicated for the treatment of
1. Respiratory tract infections due to S.pneumoniae and group A beta haemolytic Streptococci.
2. Bacterial sinusitis caused by Staphylococci, Streptococci and Haemophilus species.
3. Otitis media due to S.pneumoniae, H.influenzae, Staphylococci, Streptococci, and N.catarrhalis.
4. Skin and soft tissue infections due to Staphylococci &/or Streptococci.
5. Bone and joint infections caused by Staphylococci &/or P.mirabilis.
6. Genito-urinary tract infections, including acute prostatitis due to E.coli, P.mirabilis, and Klebsiella species.
7. Dental infections caused by Staphylococci &/or Streptococci.
Before using Keflex, tell your doctor if you are allergic to any medications (especially penicillins), or if you have kidney or liver disease, a stomach or intestinal disorder such as colitis, diabetes, or if you suffer malnutrition. 
N.B. The oral suspension (liquid) form of Keflex may contain sugar, and so it's contraindicated for diabetic patients.
Keflex is not supposed to affect the unborn baby, however, it's much better to consult your doctor if you are pregnant or plan to become pregnant during treatment. Keflex can pass into breast milk and may harm a nursing baby.
Keflex

side effects
Nausea, and vomiting.

Dizziness, and tiredness.

Watery, or bloody diarrhea.

Convulsions.

Fever, sore throat, and headache with red skin rash.

Easy bleeding, and unusual weakness.
Call your doctor immediately if you notice signs like: difficult breathing, swelling of your face, lips, tongue, or throat. 
N.B. Contra-indicated for patients with hypersensitivity to Cephalosporins.