What is Xenical?
Xenical (Orlistat) is a prescription anti-obesity drug used to help overweight and obese people to lose weight and maintain the results achieved. It is supposed to be combined with a healthier diet and regular exercise. It can be also used by people who have lost their weight successfully to make sure they do not regain weight. Xenical comes as a capsule for oral administration that is supposed to be taken exactly as recommended by your doctor. Unless your doctor recommended doing otherwise, you are supposed to take this medication within an hour after a meal or with a meal. If your meal does not contain fat – you may skip your dose of Xenical.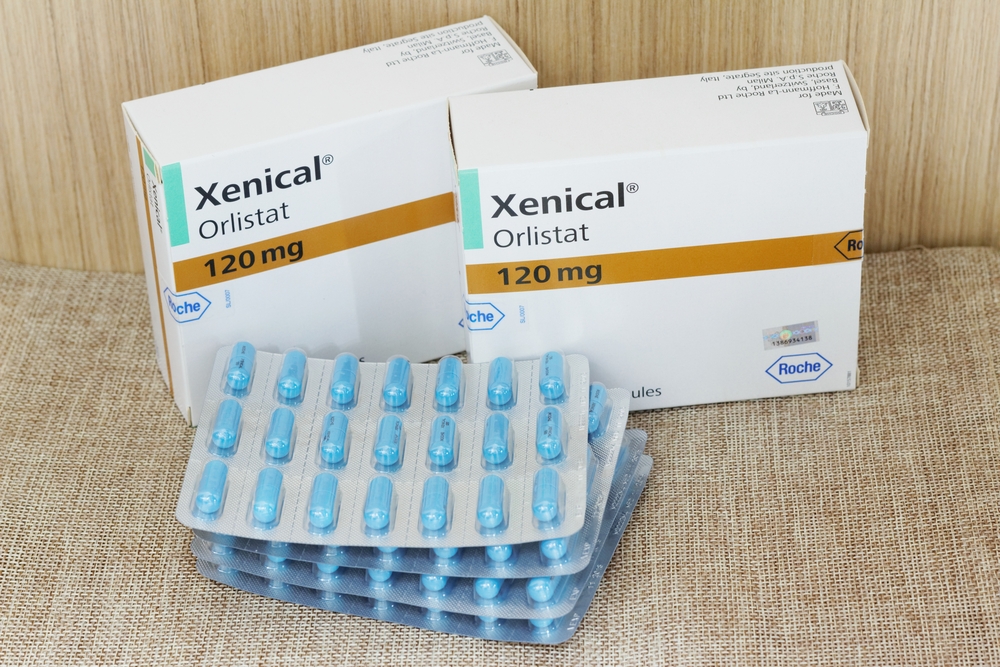 Things to be discussed with your health care provider
Being allergic to the active ingredient of this drug is a contraindication for taking it. Make sure you discuss all the risks and effects of your treatment with your health care provider. Your doctor is supposed to know as much as possible about your current health conditions and any diseases you have or used to have. The following ones are supposed to be reported to your doctor: kidney stones, eating disorder, diabetes, pancreatitis, and gallbladder or thyroid disease. Your health care provider will give you recommendations concerning your diet and daily consumption of fat that you are supposed to follow precisely. Also make sure you avoid foods that contain more than 30% of fat.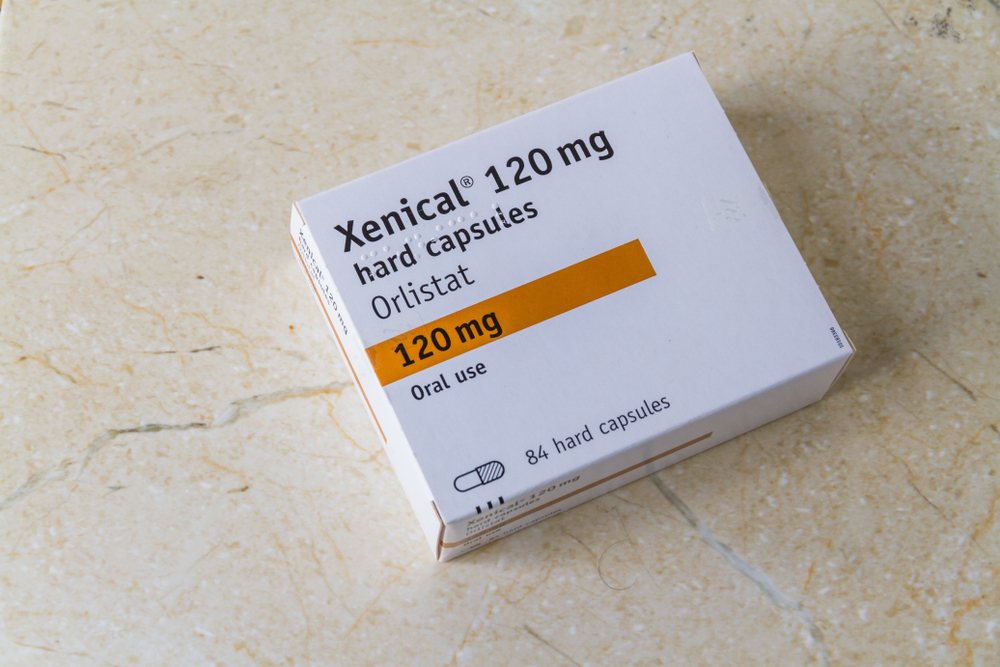 Xenical side effects
Side effects are common, but they are likely to go away after a few first weeks of the treatment. The following ones are most common: oily spotting, fatty stools, loose stools, gas with oily spotting, stomach pain, anxiety, headache, and difficulty controlling bowel movements. However, make sure you watch for serious side effects that are quite rare but nevertheless possible. The following side effects are considered to be serious and need to be reported to your health care provider: hives, rash, itching, difficulty breathing or swallowing, and severe abdominal pain. Mild side effects are not supposed to be reported unless they change in intensity or become bothersome, therefore preventing you from enjoying your everyday life.
Xenical and pregnancy
Xenical must not be taken by women that are pregnant or breastfeeding, as this may result in health effects in the unborn or nursing baby. You need to make sure taking Xenical is safe by having a pregnancy test done before starting the treatment – just to exclude the probability of already being pregnant. If you happen to get pregnant while taking this medication, make sure your health care provider is notified to learn about the options you have.
Xenical overdose
An overdose of Xenical is not expected to cause any symptoms that are too serious or lethal, but you still need to take is exactly as recommended without exceeding the dose prescribed. Exceeding the dose is not going to make your treatment last for less time and is not going to make it more efficient. The symptoms of Xenical overdose may be quite individual, so if you have taken to much of it – watch for any strange symptoms and report them to your local emergency room as soon as possible.
Xenical drug interactions
If you are taking any drugs that suppress the immune system, you are not supposed to combine them with Xenical. Instead, make sure at least two hours pass between the two drugs. Also tell your doctor if you are taking any of the following medications: anticoagulants, medications for diabetes, insulin, blood pressure medications, medications for thyroid disease, or any other weight loss medications.
Missed dose
In case you happened to miss a dose of Xenical there are two possible variants. If you remembered about the missed dose soon enough – you just need to take it as soon as possible with a glass of water or in some other way as directed by your doctor. If it is almost time for the next dose, you can just skip the one you missed and go back to the regular schedule of taking Xenical. Make sure you never take more of Xenical than prescribed and avoid doubling up the dose – this is likely to cause side effects or worsen the ones you already have.
Xenical storage conditions
Store this drug at room temperature in some place where it will not be easily accessible to children and other people to whom it was not prescribed. You are supposed to be taking Xenical without sharing it with anyone else, as this medication is supposed to be taken only by people that really need this kind of treatment.