What is Alprostadil?
Alprostadil is a popular remedy used to treat ED and help with the diagnostics of some causes of impotence. Also, it can be used to improve the blood flow in newborns who have problems with their heart.

Alprostadil belongs to the class of vasodilators which work relaxing the blood vessels and muscles of the penis, increasing the blood flow and making erection possible. The medication mustn't be used by men who don't suffer from erectile dysfunction.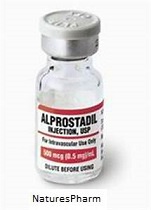 Recommendations for Use
Alprostadil should be used when needed only. Ask your doctor to provide you with full information in how to use the drug properly in any of the prescribed forms (injection, suppository). Follow all the directions provided by your healthcare provider or read the instructions in the medication guide or on the prescription label. The drug has to be used strictly as directed.

Usually erection occurs around 5-20 minutes after the use of the medication and lasts up to 60 minutes. The injection has to be injected into the penis, while the transurethral pellet should be inserted into the urethra. It isn't allowed to use more than two pellets a day and more than three injections a week. The interval between the doses has to be 24 hours at least.

The injection should be prepared only when you are ready to use it. If the remedy has changed color, has particles in it or looks cloudy, you'd better dispose of it and never use it.

Precautions and Contraindications
Before taking Alprostadil it is important to inform your doctor whether you have an allergy to the drug or if you suffer from the following conditions: multiple myeloma, Peyronie's disease or penile fibrosis, penile implants, deformed or curved penis, sickle cell anemia, reasons to avoid sexual intercourses due to some health conditions. Tell your healthcare provider about any other issues that you've ever had, such as bleeding problems, heart disease, low or high blood pressure.
Drug Interactions
Alprostadil may interact with a range of other drugs, so make sure you have informed your healthcare provider about all the drugs you are currently taking or are planning to use in the near future. Be careful with Alprostadil if you take any blood thinner (Jantoven, warfarin, heparin, Coumadin) or other drugs that are injected into the penis. Generally, the interactions between Alprostadil and other pharmaceuticals hasn't been fully studied, so you have to be very careful when taking this drug with other prescription and non-prescription medications.

It isn't advisable to smoke or drink alcoholic beverages with some medicines as they may also cause certain interactions to appear, as well as certain types of food.
Side Effects
If you started experiencing the signs of an allergic reaction such as swelling of the face, tongue, throat or lips, difficulty breathing, or hives, you need to seek emergency medical attention. If you have bleeding after the injection, the feeling as if you will pass out, pain in the penis, either new or aggravating, painful and prolonged erection, curved, tender, swelled or red penis of an unusual shape, you must call your healthcare provider immediately and get urgent medical help.

Among the common side effects that usually don't need medical attention and go away on their own as soon as the body gets used to the medication are the following: burning or warmth in the urethra, slight pain in the testicles, urethra or penis, redness of the penis.

Your partner may experience such adverse reactions as irritation, itching and burning of the areas that have been in contact with the penis.
Alprostadil and Other Drugs
To decrease the risk of side effects occurrence, you should tell your doctor about all the other prescription and over-the-counter drugs, supplements, vitamins, and herbal medicines you are taking at the moment.
Overdose
In case of overdose you should contact your medical provider or local poison control center. The most common signs of overdose include but aren't limited to fainting, blurred vision, prolonged erection that lasts more than 6 hours, nausea, dizziness, prolonged pain in the penis.