What is Aldara?
Aldara belongs to a group of immune response modifiers used to improve the symptoms of actinic Keratosis on the scalp and face. Besides, the medication is prescribed as a treatment of superficial basal cell carcinoma (type of skin cancer) when the surgery cannot be performed. Additionally, Aldara is frequently used to treat genital warts on the outer side of the body. However, keep in mind that the drug will not cure genital warts. Imiquimod (an active ingredient of the treatment) should not be used by patients younger than 12 years old. Consult your healthcare provider for off-label Aldara use.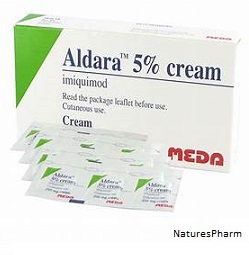 Recommendations for Use
Consult your healthcare provider before Aldara application to make sure its use will produce an advantageous effect and will not harm your overall health condition. Do not take the treatment in increased or decreased amounts or longer than necessary. Follow the prescription for a safe and effective treatment course. Aldara overuse will boost the risk of skin reactions.

Aldara should be applied on clean and dry skin only. It is forbidden to apply the treatment to wounded, burned or broken skin. The average Aldara treatment course lasts for up to 16 weeks, while the medication is applied from 2 to 5 times a week.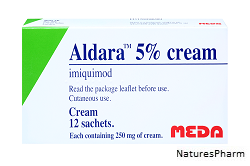 Precautions and Contraindications
Aldara is an effective topical cream that is commonly safe, though can cause some complications if misused or overused. Thus, provide your healthcare specialist with detailed information about your health condition, current diseases and previous illnesses. The treatment is contraindicated for people, allergic to Imiquimod or other components of the cream. Pregnant and breastfeeding women should avoid the medicine application, since it can produce undesirable effects on unborn and nursing children.

Tell your doctor about other health complications you experience, paying exceptional attention to a weak immune system, diverse skin problems, graft-versus-host disease, bone marrow transplant and others. Aldara should not be used by patients under 18 years old.
Drug Interactions
Aldara may interact with certain pharmaceuticals as well as medical conditions. Thus, make sure your healthcare provider knows about all the prescription and over-the-counter treatments you use to avoid undesirable consequences. Injectable and oral treatments are not likely to interact with topical Aldara, though there are rare cases of negative results of such combinations. Avoid taking Aldara together with other remedies, including live vaccines, corticosteroids, Echinacea, immune system suppressants, natalizumab, leflunomide, denosumab and other treatments. Your doctor may order you to stop the intake of one of the treatments, replace one of the drugs, decrease Aldara dose or take other action, depending on the situation.
Side Effects
Aldara is a safe remedy that produces both mild and drastic effect. Taken right, the treatment is completely safe and can cause only mild side effects, such as cold sores, skin irritations, redness, crusting, flaking of the skin, headaches, dizziness, back pain, diarrhea, nausea, vomiting, decreased appetite, vaginal discharge and others. The symptoms of the condition may aggravate and trigger other complications. Seek emergency medical assistance if allergic reactions occurred after Aldara intake. Call your doctor in case other dangerous abnormalities appeared, such as hives, breathing disorders, oozing, itching, bleeding, skin color changes, swelling, etc. Stop the drug use immediately, once you have got serious Aldara side effects, including fever, rashes, fatigue, weakness, swollen glands, chills and others.